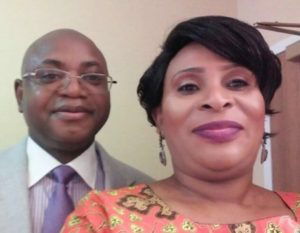 Dear Child of God,
It is with excitement and incredible joy that I welcome you to the Website of Christ United Methodist Church! Our church is a warm and diverse Christian community of people who are friendly and committed to personifying the gospel of unrestricted love in our community and in the surrounding towns and the world. In other words, we accept you as you are, because we know that the power of change does not reside in us but in our Lord Jesus Christ. We believe that God did not call us to judge people but to love them with the unrestricted love that Christ our Lord has also loved us. Our church understands that it's not about color, race, culture or country of origin, but it's about what one brings to the table. We believe that everyone is God's child created in God's image. Therefore, when coming to worship with us, you know you can come as you are! We are truly an inclusive church committed to doing "whatever it takes" to become that "lamp shining on a hill," which cannot be concealed! I will be honored to be your pastor. My name is Rev. Dr. Abiot Moyo, but my parishioners prefer to call me Pastor Abi. I have a Ministerial Diploma, Bachelor of Divinity, Master of Divinity, Master of Arts in Religion and a Master of Arts, in professional counseling. I also have a Doctor of Ministry degree, from Andover Newton Theological School, in Newton Center, Massachusetts. Today Andover Newton Theological School is operating or functioning as a unit within Yale Divinity School, in New Haven Connecticut. I am also an Author of two books, Meet the New Pastors in their new Churches: "How can the church Hierarchy help them to serve faithfully," and You can do it Baby: "God Uses the Timid, the Imperfect and the Underdogs." You can buy both books on Amazon.com. Before coming to the United States, I was pastor of many churches in both cities and rural areas in Zimbabwe, Africa. I moved to the United States on July 4, 1998 and my first appointment in the United States was in Maynard serving the Maynard United Methodist Church, Maynard, Massachusetts, for 10 years. I also served as pastor of the United Methodist Church of Woburn, in Woburn, Massachusetts and the Harbor United Methodist church in Scituate, Ma before coming to serve here at Christ United Methodist Church, in Groton, Connecticut.
I am happy and proud to be the pastor of Christ United Methodist Church here in Groton. Christ United Methodist Church provides ministry to people at every point of their need, beginning with children, adults, visitors and church seekers. We also feed the hungry in our community. As someone with a Master of Arts in Professional Counseling I come to you well equipped to provide counseling to addicts, single parents, and those with broken families or relationships who are looking to put the pieces of their lives together. Our worship service is enshrined in both dynamic contemporary and vibrant traditional worship services. Our sermons and teachings are not a one size fits all. However, we try to provide teachings and sermons that are meaningful and applicable to every church member's needs and experience. You can see all what we do in ministering with different groups of people by browsing through our church web page. Our prayer ministry during the week is also vital to the members of this church, those in nursing homes, hospitals and beyond the walls of our church family. Our music ministry is vibrant and blended and offers many opportunities for honoring God. Thanks to our Pianist and Music Director Heidi Butler.
Our website is one of the many vehicles we use to offer information to visitors and members. I pray that you will find our website informative, inviting and inspiring! If there is anything that we can do to make your journey with us through our website and worship services more efficient and effective, please let us know. We have a wonderful dedicated leadership team and volunteers who are committed to make your experience truly one to remember if you visit and worship with us. My wife Sheillah and I and all our church leadership are grateful that you have visited our church website. We hope and pray that this website will help you to get a good idea of who we are and what we stand for. If you have questions after browsing our web page, feel free to contact me by emailing me on my personal email address: revdrmoyo@yahoo.com or calling my church office phone number 860-445-0088 or my cell phone (978) 332-6817. My personal email is revdrmoyo@yahoo.com. We love to hear from you and please, know that you have an open invitation to join us for worship every Sunday at 10.30am and that we look forward to sharing and celebrating the journey of faith with you.
Yours in His Service,
Rev. Dr. Abiot Abi Moyo
Pastor in charge